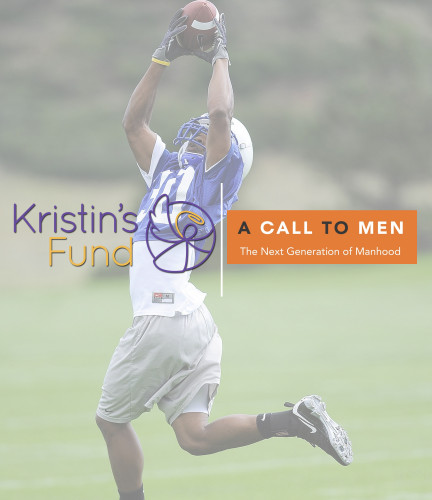 May 13, 2019
NEW in 2019 -"A Call to Coaches" training session–for Coaches in ALL SPORTS
June 17 & 18th, 2019 – Utica, NY – Kristin's Fund and A CALL TO MEN have teamed up again to host a FREE football camp for area athletes, it's one of a kind in central NY. – The camp, called A CALL TO MEN Football Camp – includes skills training; character development; healthy, respectful manhood education; and prevention strategies for dating violence and sexual assault. The camp will include approximately 200 Utica-area athletes AND coaches. Utica College Head Coach Blaise Faggiano & the Pioneer staff will be running the football skills portion of the camp.
WHO: JOE PALUMBO, CO-FOUNDER of KRISTIN'S FUND and RICK HOUSTON, of A CALL TO MEN, and international leader on issues of manhood, male socialization and its intersection with violence, and preventing violence against all women and girls, will headline the training. Former Green Bay Packer and 49'ers Wide Receiver & Super Bowl Champ Brett Swain will be one of our guest coaches!
WHAT: A CALL TO MEN's Football Camp infuses healthy manhood education into a 2-day football camp for high school boys. The camp is a mix of skills training and character development, with specific education around healthy manhood, healthy relationships, violence prevention, bullying and consent. Content is based on A CALL TO MEN's LIVERESPECT Coaching Healthy, Respectful Manhood Curriculum. Research shows the curriculum significantly increases boys understanding of male socialization and its impact on violence against women and girls, healthy relationships, and consent.
WHEN: Football Camp: June 17 & 18, 2018 from 6:00 p.m. – 9:00 p.m.
"A Call to Coaches" - Training Session – Monday, June 17th 12:00 PM – 1:30 PM Utica College
WHERE: Charles Gaetano Stadium, Utica College, 1600 Burrstone Rd, Utica, NY 13502
REGISTER TODAY: https://www.eventbrite.com/e/kristins-fund-a-call-to-men-football-camp-tickets-61710587027
CONTACT: Joe Palumbo, 858 688 3614 jp@palumbo1.com
ABOUT A CALL TO MEN / A CALL TO COACHES
A CALL TO MEN educates men all over the world on healthy, respectful manhood. Embracing and promoting a healthy, respectful manhood prevents violence against women, sexual assault and harassment, bullying and many other social ills. A CALL TO MEN is a violence prevention organization and respected leader on issues of manhood, male socialization and its intersection with violence, and preventing violence against all women and girls. For more information, visit www.acalltomen.org. Follow A CALL TO MEN on Facebook and Twitter @acalltomen.
ABOUT KRISTIN'S FUND
Kristin's Fund was formed by the family of Kristin Palumbo- Longo, who was killed by her husband on September 28,2009, in Utica, NY. Kristin's Fund mission is to eliminate domestic violence by funding prevention education initiatives. http://www.kristinsfund.com. Follow on Facebook https://www.facebook.com/KristinsFund/ @kristinsfund on Twitter.